Crack linux password with john. Cracking linux password with john the ripper 2019-04-03
Crack linux password with john
Rating: 4,6/10

872

reviews
Hack Like a Pro: How to Crack User Passwords in a Linux System « Null Byte :: WonderHowTo
Download link: Aircrack-ng Best Password Cracking Tools Of 2016 Aircrack-ng ng stands for new generation is one of the best password cracking tools that hackers use to bump their annoying neighbors off their own Wi-Fi. If the amount of characters is limited or you know you have more characters and you have the use of numbers and symbols then obviously the process is gonna be longer. What's next can't be done. All you need to do is specify a wordlist a text file containing one word per line and some password files. Larger the database, more the words covered. As you can see, it cracked all three of ours in a matter of seconds! The password cracking speed of a tool also depends heavily on the cryptographic function that's used to generate password hashes. Larger the database, more the words covered.
Next
How to crack Linux, Windows, Brute force Attack By Using JohnTheRipper
But in this guide, we will work from shell. Or first create a new user with a simple password. Using Wordlists to Crack Passwords I don't really recommend this one, but there are some peoples out there using this to crack. It saves the hash for us in here. Bonus: Top 10 Best Hacking Tools 2017 Edition.
Next
Cracking linux password with john the ripper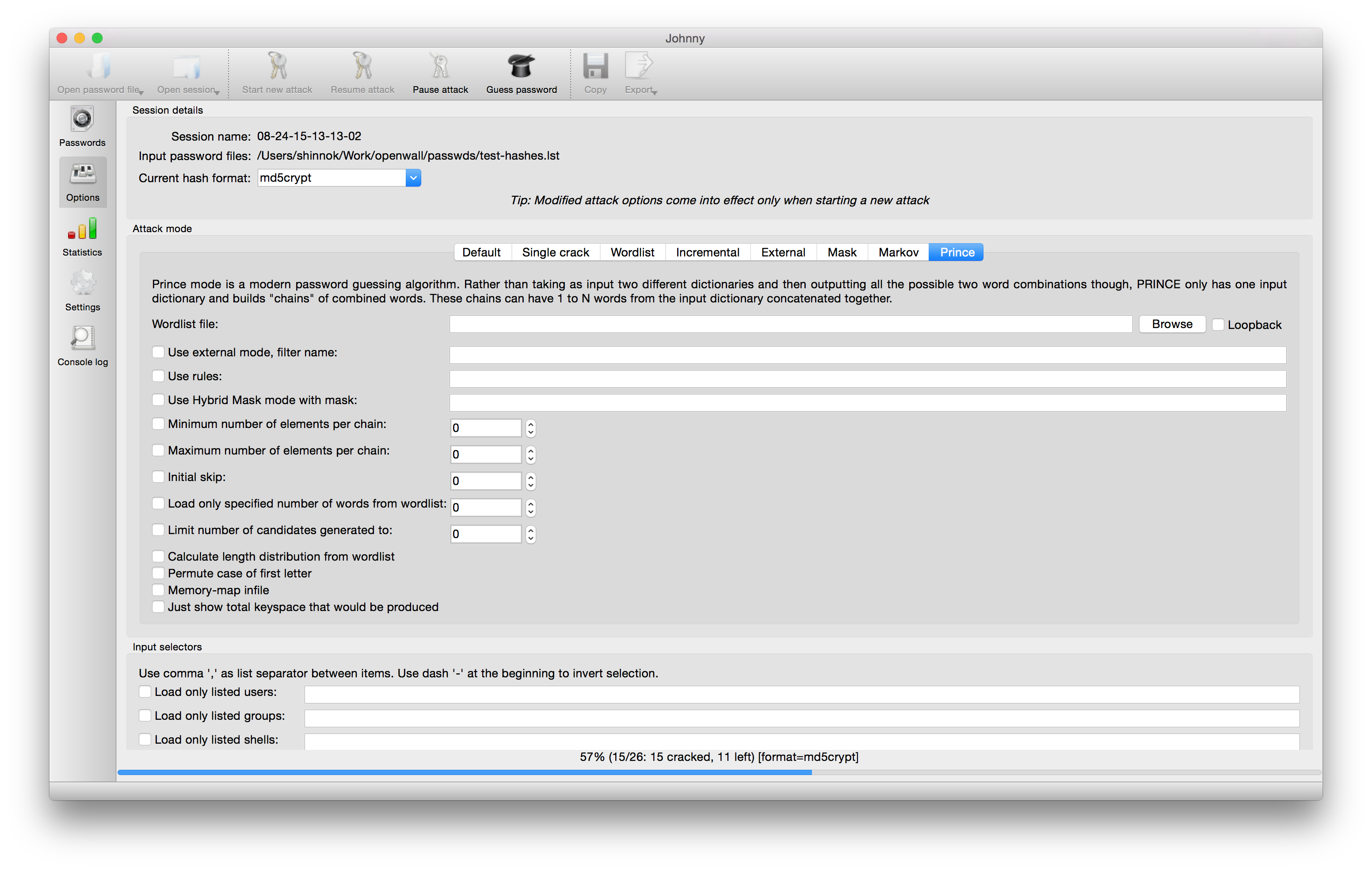 In recent blogs, I've demonstrated how to grab password hashes remotely using 's and. In kali linux many wordlists are available that can be used in cracking. Already one zip file in my desktop so follows the command. It is very easy for new code to be added to jumbo: the quality requirements are low. Mode descriptions here are short and only cover the basic things. This free-to-use tool helps the pentesters and security researchers to know how easy it would be to gain remote access to a system.
Next
How to crack a PDF password with Brute Force using John the Ripper in Kali Linux
In this case which was user2 and it caught the password there which was awesome. So we say John and then we use the format denoted. That is encrypted behind a password. It's also important to note that any password cracker is only as good as its word list. It is one of the most popular password cracking programs as it automatically detects password hash types and includes a customizable cracker. I've purposely chosen dictionary words as the complexity of the password is inversely related to the time necessary to crack it.
Next
Cracking password in Kali Linux using John the Ripper
After analyzing the encrypted password packets, aircrack uses its cracking algorithm to break the passwords. Please refer to for information on the programming language used. To crack linux passwords we will need two files: the passwd file and the shadow file. This mode matches different combinations of those words to crack your device open. Cracking password in Kali Linux using John the Ripper In this case, I have an encrypted zip file here. So as you can see detected that the hash type was a sha-512.
Next
10 Best Password Cracking Tools Of 2016
Step 1: Create Some User Accounts Since our BackTrack system probably doesn't have many users on it other than our root account, let's go ahead and create a couple more accounts. Then run: mailer mypasswd Configuration file. Using a wide set of attacks like dictionary, hybrid, brute force, and rainbow tables, this password cracking tool can also be deemed useful in sniffing hashes. That is an encryption protocol. I will show you how to crack Linux passwords with John. WordPress uses cookies, or tiny pieces of information stored on your computer, to verify who you are.
Next
Cracking password in Kali Linux using John the Ripper
The password hash cracking process is the cracking process and it caught it in a few seconds and as you can see the password is really simple. How to write a good wordlist to make it start trying? In the next red marked there are 4 users on the target system. In this post, I will demonstrate that. This free password cracking tool is chiefly written in C programming language. There are lots of other password cracking techniques like phishing, spidering, social engineering, shoulder surfing etc.
Next
*New* John the Ripper
John the Ripper is a free password cracking software tool. Soon, I'll be discussing them in detail in another article. The process is the same you just need to change, this into our rar. This article is meant to demonstrate the principles of password cracking in Linux. Here you will get what formats are supported for john. This is the mode you should start cracking with.
Next