Crack wpa aircrack kali. How to hack a Wi 2019-03-01
Crack wpa aircrack kali
Rating: 6,3/10

846

reviews
Hack WPA / WPA2 Wi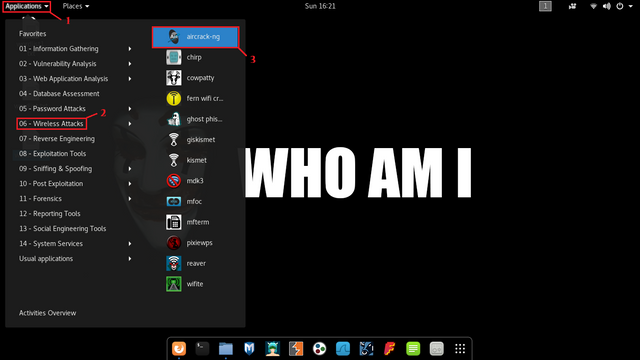 To do it we are going to use airodump-ng that expects as first parameter the name of the interface in monitor mode. For all of you aspiring deviants I suggest you put in the time learning the basics like using the terminal to find a folder with a file you saved. For this example the password on the router was 12345. What worked for me is hack my own router till I got good at it. You must capture the full packets. Step Five: Type airodump-ng followed by the name of the new monitor interface, which is probably mon0.
Next
How to hack a Wi
Cracking the password might take a long time depending on the size of the wordlist. For information, 1, 2, 5. If you are thinking about generating your own password list to cover all the permutations and combinations of characters and special symbols, check out this first. I started using when it was backtrack. Also, you can install and use it with Windows.
Next
Hack WPA / WPA2 Wi
It might take a long time, or it might only take a second before the first one shows. Sending an excessive number of deauth packets may cause the client to fail to reconnect and thus it will not generate the four-way handshake. For the wireless adapter, choose whichever one you want to monitor on. Open a new terminal and execute the following command to list all the network interfaces of your computer: ifconfig Then you should get an output similar to: wlan0 is the name of the first wireless network interface on the system. This is something to always keep in mind for ethical hackers when hacking WiFi networks using the Aircrack suite.
Next
Hack WPA / WPA2 Wi
To do this the airodump-ng command is used along with some switches and information collected. Did you know there is a manual to almost any program? If you are following the terminal commands I'm using, then it's just a simple change directory command for you: cd fluxion Now, run the script. Locate your network or the network that you have permission to the penetration test. Put them togerher and took out all the duplicates. Open another console session and enter: aircrack-ng -w password.
Next
Kali Linux使用Aircrack破解wifi密码(wpa/wpa2)
If this is the case, you can try other wordlists. The main feedback we need to watch is the Beacons and the Data. After trying these steps and other variations of them, I found a command on another site: aireplay-ng -9 wlan0mon I read that it's supposed to if packet injection is supported by my adapter. Step 8 — Hack Wi-Fi Using Kali Linux Airodump with now monitor only the target network, allowing us to capture more specific information about it. Instead of waiting for a device to connect, hackers can use this tool to force a device to reconnect by sending deauthentication deauth packets to one of the networks devices, making it think that it has to reconnect with the network. You might have to wait a while.
Next
Cracking WPA WPA2 with Kali Linux (verbal step by step guide)
The first step is information. As Aircrack-ng has been created primarily for Linux you can install and use it with any version of Linux. The reauthentication is what generates the 4-way authentication handshake we are interested in collecting. Additional troubleshooting ideas and tips are especially welcome. You will find plenty of wordlists to crack wifi networks online or generate your own Wordlist. Below are some dictionaries that can be used with Backtrack or Kali Linux. If the password is found in the dictionary if found in the dictionary generated by our C code, then it was a really bad password.
Next
How To Crack WPA/WPA2 Wi
Crunch can be used to build custom wordlist, hackers use that tool to create targeted wordlist for there victims and brute force their passwords. Then your ready when you try for real. Based on the output of airodump-ng in the previous step, you determine a client which is currently connected. Note the channel of your target network. You can increase or decrease this number, but keep in mind that sending more than two packets can cause a noticeable security breach.
Next
How to hack a Wi
This disables the wireless card from connecting to the Internet, allowing it to focus on monitor mode instead. Locate your network or the network that you have permission to penetration test. From now on, the process is entirely between your computer, and those four files on your Desktop. Step 11: This concludes the external part of this tutorial. What's a dictionary attack A dictionary attack is a method that consists of breaking into a password-protected computer or server in this case a Wi-Fi network by systematically entering every word in a dictionary as a password. You might just be too far away, and all you need to do is move closer. It might take a long time, or it might only take a second before the first one shows.
Next
How To Crack WPA/WPA2 Wi
Steps of Aircrack-ng Wifi Hack Step One: Start Kali Linux and log in, preferably as root. Oh yeah, and add these passwords to the very top as to ensure they are used first. It should look similar to this: lo no wireless extensions. If you simply cannot find the password no matter how many wordlists you try, then it appears your penetration test has failed, and the network is at least safe from basic brute-force attacks. This can sometimes give you clues as to what is wrong and thus some ideas on how to correct it. This can be done either actively or passively. This is just a tutorial with educational purposes that shows how to execute dictionary attacks to a normal Wi-Fi network easily with Kali Linux and Aircrack.
Next