Macro to unlock excel 2013 spreadsheet without password. excel 2019-02-25
Macro to unlock excel 2013 spreadsheet without password
Rating: 7,3/10

559

reviews
Technical Solutions: UnProtect / Remove Password from Protected Excel Worksheet
The backup promises to keep the original Excel file even though you fail to remove Excel file password with this method. However, if you do not enter a password, then anybody will be able to unlock your workbook with a button click. There is no need to panic because with the help of this article, you know everything on how to unlock excel file and the best software to unlock password protected excel file. How to protect Excel sheet To protect a sheet in Excel 2016, 2013 and 2010, perform the following steps. The whole process is very fast! The tutorial shows how to protect Excel sheet with or without passwords. Be sure to remember the password or store it in a safe location because you will need it later to unprotect the sheet.
Next
How to protect and unprotect Excel sheet with or without Password
There is the problem, though: The worksheet is locked, and changing the formulas is not permitted because of the protection. When I went back in to 'unprotect' its greyed out and I cant select unprotect. Having said that, the method does not harm your spreadsheet nor data, so you have nothing to lose from trying it. This will open the general declarations page for the sheet. Open up the Marcro Editor Tool. A common example is to prevent inadvertent erasure or modification of formulas. Or, click the Protect Sheet button on the Review tab, in the Changes group.
Next
How to Unprotect VBA Project in Excel Without Password 2016, 2013, 2010
If Delete columns is protected and Insert columns is not also protected, a user can insert columns that he or she cannot delete. These are — Brute Force Attack, Brute Force with Mask and Dictionary Attack. ProtectContents Next w1 If ShTag Then For Each w1 In Worksheets With w1 If. Opened up the file in the new workbook. Then click the Save button to save your workbook. However, if you forgot Workbook password, then you will not allowed to access the workbook and view the data, let alone edit the data.
Next
Unprotect Excel : Unlocking Excel Sheet Without Password 100%
If you lose the password, you will be unable to access to the protected elements on the worksheet. I thank you for reading and hope to see you on our blog next week. If you chose the Structure box, then nobody can mess around with the sheets in the workbook like deleting or rearranging. Step 4: Unprotect worksheet with generated code. I need to unlock the actual workbook since when I say file open and select the workbook to open, it asks for the password at that point of entry, without it you cannot even open the workbook itself let alone see or get to any of the sheets, at all. Now it seems its locked up. I recently had the circumstance where a client sent me a copy of a spreadsheet that was password protected, however the client no longer had the password to unlock the content.
Next
How to Unprotect Excel WorkSheet with or without Password
The macro may not be available in this workbook or all macros may be disabled. Users can change the values in the changing cells, if the cells are not protected, and add new scenarios. Because Microsoft Excel uses a very simple encryption algorithm for worksheet protection. This will prevent users from moving, resizing, minimizing, or closing the workbook windows. It means it is the usable code that has helped to unprotect your worksheet.
Next
How to Unlock an Excel Spreadsheet Password Protected File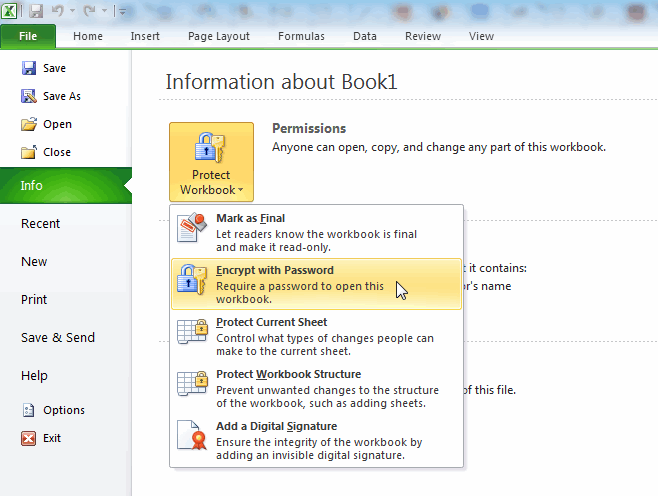 This was the fourth time, and the first time I found your site with the hack which worked. This can be in the current workbook or in a new workbook. Went to add ins and then selected the macro. Did you like this article. How to unlock Excel Spreadsheet for editing when forgot password Lock the cells on your Excel spreadsheet and protect them with password can helps to prevent other users from accidentally and deliberately changing, moving or deleting the data on your Excel worksheet. Then you need to select an attack from 4 types of password recovery attacks.
Next
Technical Solutions: UnProtect / Remove Password from Protected Excel Worksheet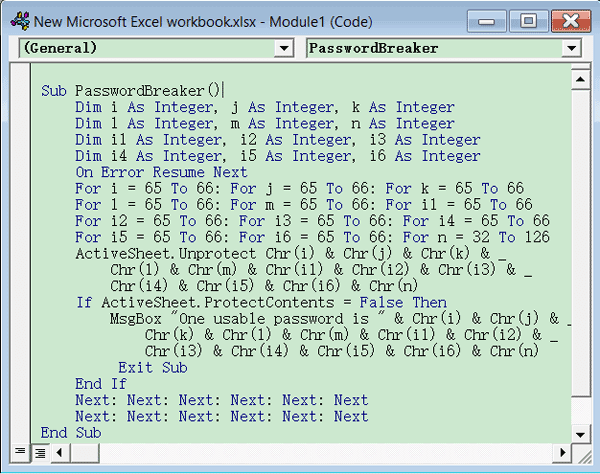 Tap on Remove Password button now and sheet password, workbook protection password and read-only password would be removed from excel file simultaneously, supposing your excel file is protected with all of these passwords. We are now through 25 or 26 weeks and need to get the figure in week one corrected. Format rows Using any of the row formatting commands, including changing row height or hiding rows Home tab, Cells group, Format button. See how to compare two files. Password protect Excel workbook from modifying If you don't mind other users opening your Excel file but you want to prevent them from making any changes to your workbook, perform the following steps. Edit scenarios Viewing scenarios that you have hidden, making changes to scenarios that you have prevented changes to, and deleting these scenarios.
Next
How to protect worksheets and unprotect Excel sheet without password
And a box pops up with a usable code. More information about the worksheet elements Clear this check box To prevent users from Select locked cells Moving the pointer to cells for which the Locked check box is selected on the Protection tab of the Format Cells dialog box. So, it is advised not to use this code to exploit or crack or hack password protected Excel Sheet data from other users, for which you are not authorized. Dennis has a travel expense worksheet that he has inherited; it has been passed down within his organization for years. Specifying a password is optional when you plan to use access permissions. Users can unlock password-protected sheets with a simple syntax. How to unlock an Excel spreadsheet for editing when forgot password? I thank you for reading and hope to see you on our blog next week.
Next
Unprotect an Excel spreadsheet if you have lost your password
How to unprotect Excel sheet without password As mentioned in the beginning of this tutorial, Excel worksheet protection is quite weak even in the recent versions of Excel 2013 and Excel 2016. If you do not supply a password, any user can unprotect the sheet and change the protected elements. Rename the file extension to. How to unprotect a password protected worksheet. It is because Microsoft introduced the Single Document Interface in Excel 2013, where each workbook has its own top-level window that can be minimized, restored, and closed. You can remove spreadsheet protection simply by applying a simple edit to the xml within the Excel file. Users can change the values in the changing cells, if the cells are not protected, and add new scenarios.
Next
How to Unlock an Excel Password
But if the protected sheet has external links to other sheets or workbooks, you need to add those links manually. If Delete rows is protected and Insert rows is not also protected, a user can insert rows that he or she cannot delete. It can be the same password of two different ones. Your code is not easy to handle and understand what you are trying to do. If you are interested in this level of workbook protection, check out the next sections of this tutorial.
Next